Fiverr is the largest online service marketplace in the world, and it is the best platform for freelancers. There are plenty of different services offered by freelancers. The minimum price of the service is $5.00. You can register for Fiverr by following this link.
Fiverr: Best Platform for Freelancers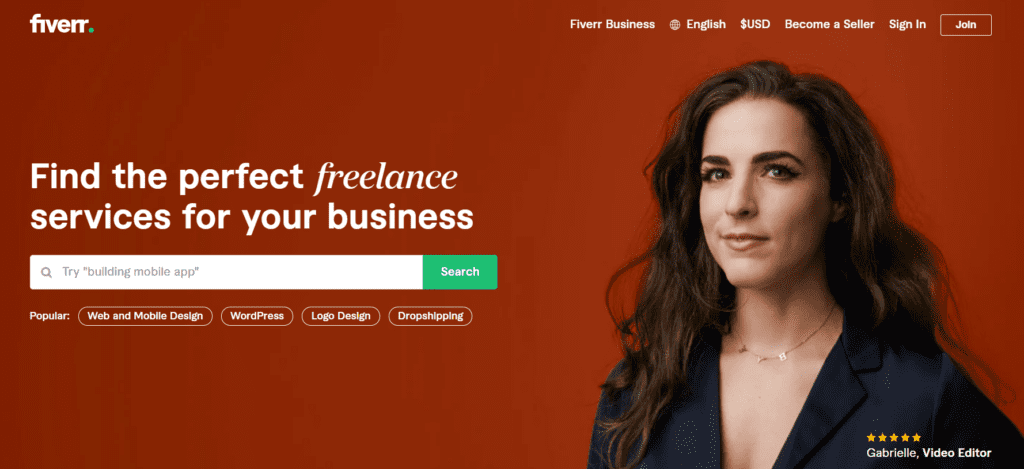 Difference between Fiverr and other freelance sites
Fiverr differs primarily in the fact that you do not need to regularly monitor and search for orders – on the contrary, customers themselves will find you and leave a request for order fulfilment.
Your services on the site are called gigs. This can be related to your professional activities (creating a design, writing an article, auditing a site, etc.), or something unusual, like "become a friend on Facebook", "put the customer's logo on cappuccino foam", "make on camera something funny "or" sing a congratulatory song ". The options are endless, limited only by your imagination.
You don't have to be able to do something professionally – the main thing is to have a good imagination.
How to sign up on Fiverr
To register on the site, you need to go to the main page and click on the Become a Seller button. You can register via Facebook, Google account or email.
After that, you need to fill in your profile. Upload an avatar that shows your face: the customer will be more pleasant and calmer if she/he communicates with a real person, and not with a picture.
Tell us a little about yourself, indicate the languages ​​in which you are ready to communicate professionally. Don't forget that you can use Google translator if you are not fluent in English: all communication on the site is in text form.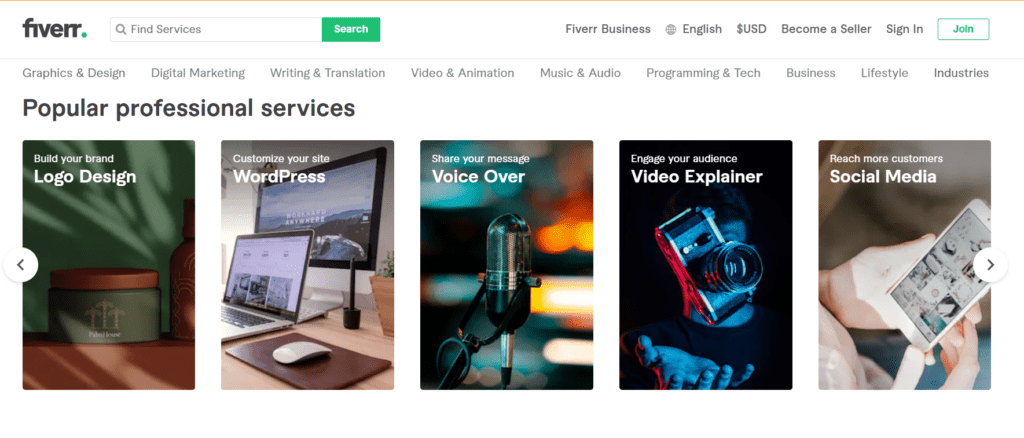 In the Professional Skills section, you can choose what kind of employment you are interested in (full or partial), indicate all your skills, education and upload certificates, leave your personal website address.
It is very helpful to list all your social media and portfolio sites, it will increase your competitiveness and show you as a professional.
How to create a gig on Fiverr
Now you can start creating your first gig. In the title, write your sentence in English, starting with "I will …", then select a category and add tags.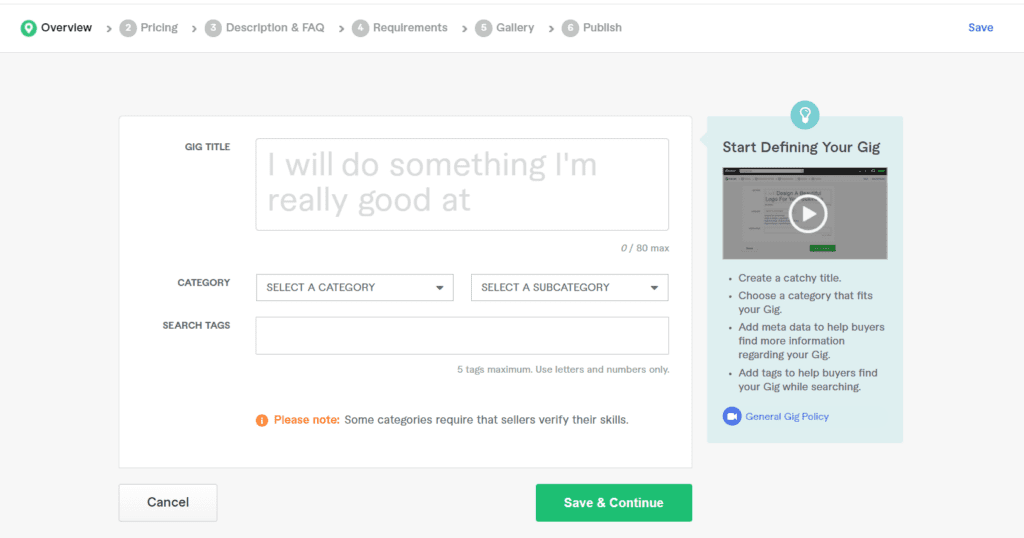 The minimum price on the site is $5.00. You will get $4.00 from them, $1.00 goes to the site as a commission.
Before publishing a service, think about what you are willing to do for that amount. In some categories, you can specify a higher starting price, for example, if there are no such prices in your area at all. Let's say you are a designer. For a minimum bid of $5.00, you can design one cover for a group on a social network or one banner. But rendering an entire page of the site a priori cannot cost that much, so the initial price will be much higher (for example, $50.00).

You can also create three types of services on the Fiverr: Basic, Standard and Premium, adding a certain number of additional options to each. This is just for the cases described example above: one cover will cost $5.00, and 4 covers, for example, $15.00. Each package has its own options: for example, you can specify that you give the source code only in the Premium package. Also, the cheapest package usually does not include edits, and the turnaround time is longer than in Standard and Premium.
According to statistics, customers most often choose the middle option, so write it down especially carefully.
How to withdraw money from Fiverr
To withdraw earned money from Fiverr, go to the Selling – Earning menu.
There are three withdrawal options: Fiverr Revenue Card (this is a card issued in conjunction with the Payoneer payment system. You can simply link your existing account or create a new one the Payoneer homepage. Besides it, there are other payment options like PayPal and Wire Transfer (bank transfer). They differ in commissions and the minimum amount of withdrawn funds. The most convenient option is to order a Payoneer card, you can use it to pay at any store in any currency around the world, the conversion will happen automatically.
You can withdraw money in any way only two weeks after it was credited to your account.
Conclusion
Fiverr is very easy to use and it is free. Freelancers just create the gig, the service, they offer, and customers will find them. Today, Fiverr can be called the best platform for freelancers.