Coinzilla is an ad network for crypto sites, i.e. for websites that are related to Bitcoin, altcoins, or cryptocurrency in general. The service is intended for site owners who would like to sell "crypto traffic", as well as for buyers who are looking for such traffic. The Coinzilla ad network platform pays for both impressions and clicks. The company was founded in 2017.
Coinzilla: Ad Network for Crypto Sites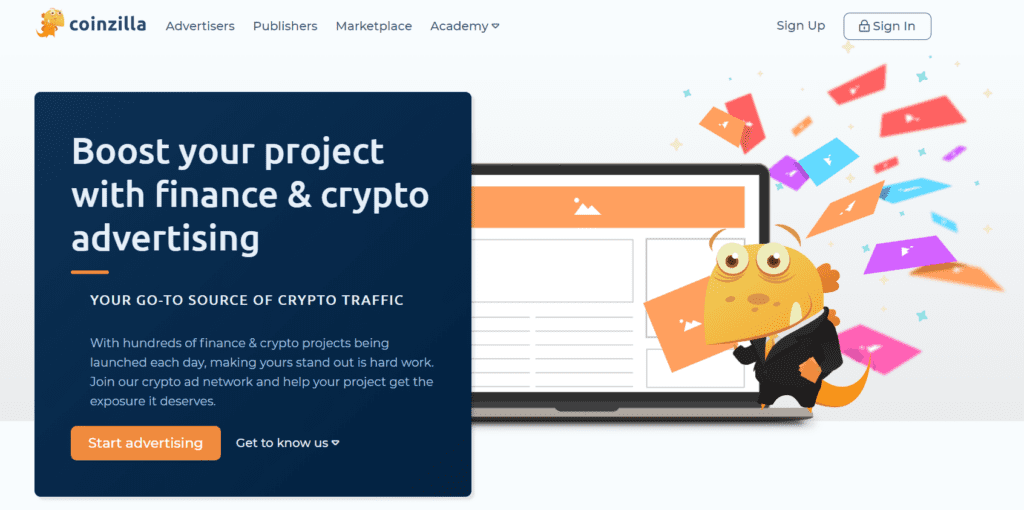 What you get
After registration on Coinzilla, the user gets the opportunity to advertise their sites, applications or services that are associated with cryptocurrency. You get targeted traffic that is mounted on interaction, because it is "warm". Unlike "cold" traffic, a motivated audience is much more efficiently monetized, becomes an active part of readers etc.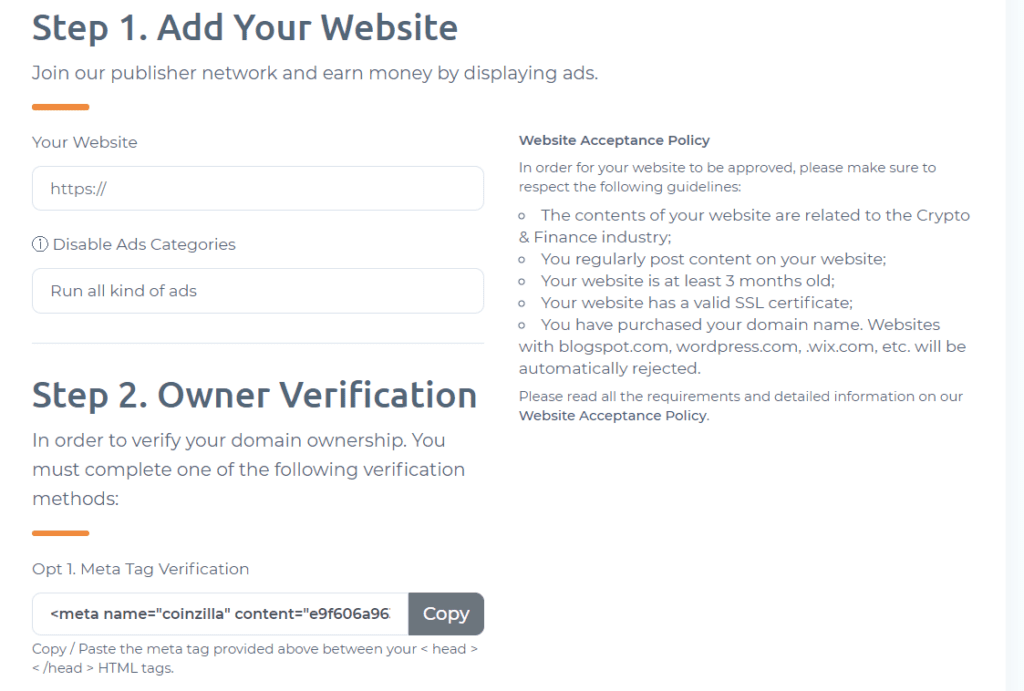 If you have a website about cryptocurrencies, you can integrate a banner or advertising link into the content. You will receive money for every impression and click. In addition to ordinary information sites, blogs, video blogs, catalogues, Internet services and other resources are accepted to participate in the advertising network. The main requirement for effective cooperation is a live audience and topics about bitcoin and cryptocurrencies.
How to use
Sell traffic
If you want to sell traffic with Coinzilla ad network, you need to register an account using the "I'm a Publisher" link. After registration, you will be taken to the control panel, where you will need to add a site. Please note that all sites are manually tested. If your site is approved, a green Active Website icon will be lit next to it.
After adding a site, integrating the ad code, the ad will start showing on the site. "Today Impression", "Today Clicks", "Today Earnings", "Today eCPM" indicators will change depending on the volume of impressions and clicks.
Buy traffic
If you want to buy traffic from Coinzilla ad network for your site, sign up using the "I'm an Advertiser" link. After authorization, you can top up the balance by direct transfer to the specified wallet. The address is individual, so all funds that come to it will be credited to your balance.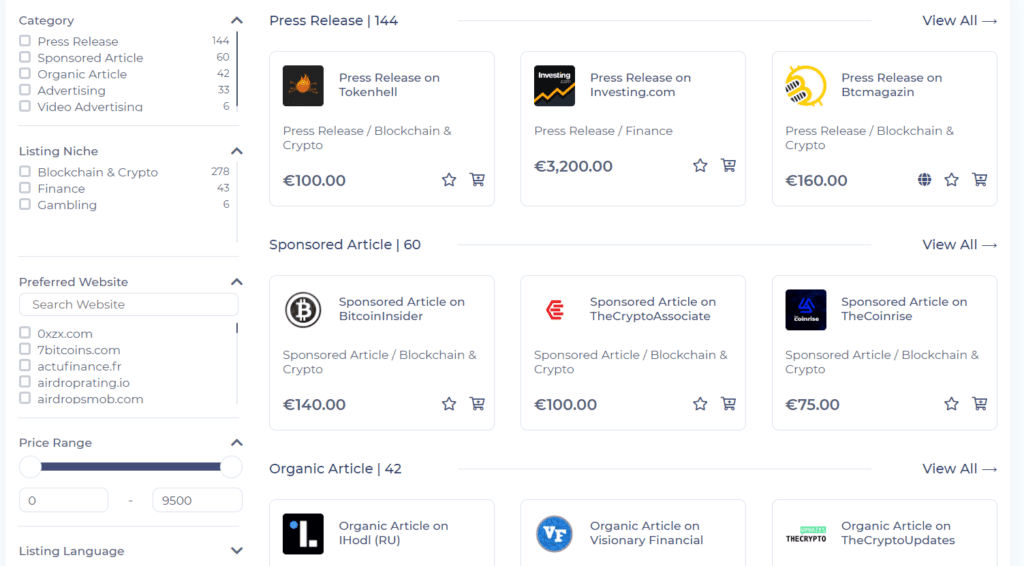 You can filter and check ad platforms by yourself. If you don't want ads to appear on a specific site, you can exclude it from the database. At the same time, you see detailed statistics by which you can judge the effectiveness of a particular site.
How to withdraw
Balance replenishment and withdrawal of money is carried out exclusively in bitcoins, ethereum or via bank transfer. Money for clicks and impressions is sent to the balance after a seven-day "hold", which excludes the possibility of fraud.
In Coinzilla low-quality sites with spam traffic are carefully screened out and filtered both in automatic and manual modes. Since all sites are checked manually, the traffic is high quality and conversion.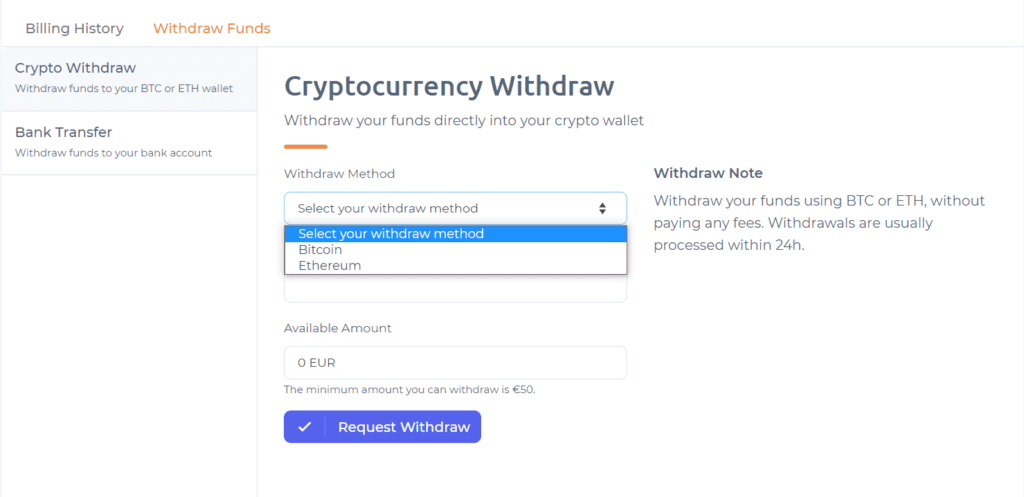 The minimum withdrawal amount is 0.001 BTC. Funds are withdrawn within seven days. The service charges a commission of 0.0001 BTC for each transaction.
Money is withdrawn only for viewed banners/links. If the user just loaded the page, but did not scroll to the ad unit, the funds will not be debited.
Conclusion
Coinzilla is a great ad network for crypto sites or any other projects, which are related to the cryptocurrency. Sign up on the Coinzilla website if you want to make money selling traffic or buy traffic for your own projects. You will be able to profitably realize the potential of your platforms related to cryptocurrency. It is more profitable to use a thematic exchange, because you get a much higher profit for clicks and impressions than in general topics. Advertisers get more targeted traffic from Coinzilla ad network.
Read also: How to Make Money with Google Adsense