When I was telling you about the Hive and how to make money on Hive, I briefly mentioned delegation. Today I want to tell you more about delegation and to show you how to delegate the Hive Power.
What is delegation
First of all. what is delegation? Delegation is renting the Hive Power to another user.
Why delegate the Hive Power
There are can be many reasons why you delegate the Hive Power. If you have several accounts on Hive Blockchain, you maybe would like to accumulate all your Hive Power on one account in order to increase the power of your vote.
Another reason why people prefer to delegate the Hive Power is getting extra income. Many communities or 'big' accounts on Hive pay commissions to those who delegated the Hive Power to them. Therefore, you can start to get a passive income.
How to delegate the Hive Power
If you decided to delegate the Hive Power, you need to know how to do it. Here is a brief instruction which will help you.
When we talked about what is Hive, I mentioned that there are many different platforms, which are connected to the Hive. And most of these platforms offer the delegation tool too. And the way to delegate is similar in all of these platforms. So I will show you how to delegate the Hive Power using the primary platform Hive.blog.
First of all, you need to log in to your Hive wallet. And on the Balance tab, you will see you Hive Power. There is an arrow down on the right side of your Hive Power balance. Click on that button. And in the open menu choose Delegate.

Then you will get a popped up menu with a delegating form. Type in the Delegatee ID and amount of Hive Power you want to delegate. And click on the Next button.
Then confirm the details and click on the OK button. After that, you will need to confirm your ID and Password (key).
The delegation will start to work from the next day. And depends on the delegation condition, i.e. your delegatee, you will get your commissions every day, once a week, or once a month.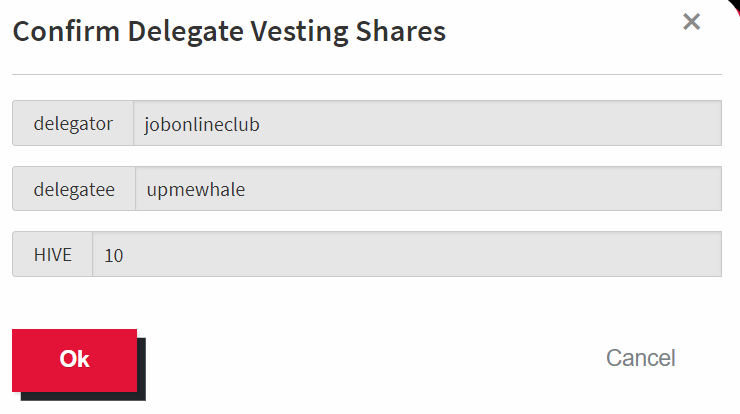 How much you will get by the delegation
One of the most important questions is how much you will get from delegating Hive Power. It depends! It depends on your delegatee and on the delegation amount.
Some delegatees pay the commission every day, but others pay once a week. Some delegatees pay the commission in Hive tokens, but others in their own tokens. For example, most of the communities on the Hive have their tokens. And they pay the delegation commission in their own tokens and in Hive tokens. You can delegate to different people or communities. Or you can choose just one delegatee.
Choose the option which is best suited to you.
Conclusion
Delegation is a great way to start getting a passive income. Many people delegate the hive power and receive the commission by doing nothing. So, if you want to make money on Hive, but you don't want to write, play, communicate, etc, you can delegate Hive Power.